PTCS: Crafting Custom Software Solutions for Your Unique Business Needs.
PTCS is a trusted provider of custom software development services, dedicated to helping businesses streamline their processes, enhance productivity, and achieve digital transformation. With a team of experienced developers and technology experts, PTCS specializes in developing tailor-made software solutions that address specific business needs, drive innovation, and deliver measurable results.
Custom Software Development: PTCS specializes in custom software development, tailoring solutions to meet the unique requirements and objectives of each client, ensuring a precise fit for their business processes.
Expert Development Team: Our team comprises experienced software developers and technology experts who have deep knowledge of diverse industries and technology stacks, enabling us to deliver robust and reliable solutions.
Full-Cycle Development: PTCS provides end-to-end software development services, from initial planning and design to development, testing, deployment, and ongoing support, ensuring a seamless development lifecycle.
Technology Expertise: We stay at the forefront of technology trends and leverage cutting-edge tools, frameworks, and programming languages to develop scalable, secure, and future-proof software solutions.
Unlock Your Potential with PTCS' Expertise in Custom Software Solutions and Cutting-Edge Technology.
At PTCS, we understand that off-the-shelf software may not fully meet the unique requirements of every business. Our mission is to provide businesses with customized software solutions that align with their specific processes, workflows, and goals. With a customer-centric approach, we work closely with our clients to understand their pain points, design scalable solutions, and deliver high-quality software that enhances efficiency and drives business growth.
Choose PTCS for Seamless Custom Software Development that Empowers Your Digital Transformation.
By choosing PTCS as your custom software development partner, you gain access to expertise in custom development, an experienced development team, full-cycle development services, technology expertise, agile methodologies, user-centric design, integration capabilities, quality assurance, security measures, scalability, ongoing support, transparent communication, industry knowledge, and cost-effectiveness. PTCS is committed to delivering customized software solutions that drive efficiency, innovation, and business growth for our clients.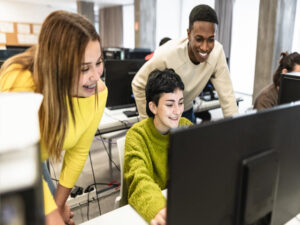 Banks & Insurance